The biggest event on the VALORANT calendar so far is set to begin next month with a whopping 32 teams in attendance.
The three-week VCT LOCK//IN tournament, which is set to take place in São Paulo, Brazil, will feature two groups with 16 teams each. The tournament will operate with a single-elimination format to accommodate the number of teams in attendance.
The format is relatively simple. Going into the tournament, Riot Games said it plans to maximize the number of international matchupsso teams were randomly drawn into pre-position matchups via randomized seeding. To put it simply, Riot curated matchups between regions and allocated random teams to fit the international matchups.
For example, in the first group dubbed Alpha, MIBR will face off against Talon Esports, which is the Americas region facing off against the Pacific region. The winner of this matchup will move forward into the next round to play the winner of Heretics from EMEA and Evil Geniuses from Americas, located in the top left quadrant of the Alpha bracket.
There are a few overlapping regions, however, but this format ensures it is impossible for two regions to play each other in the first round of competition.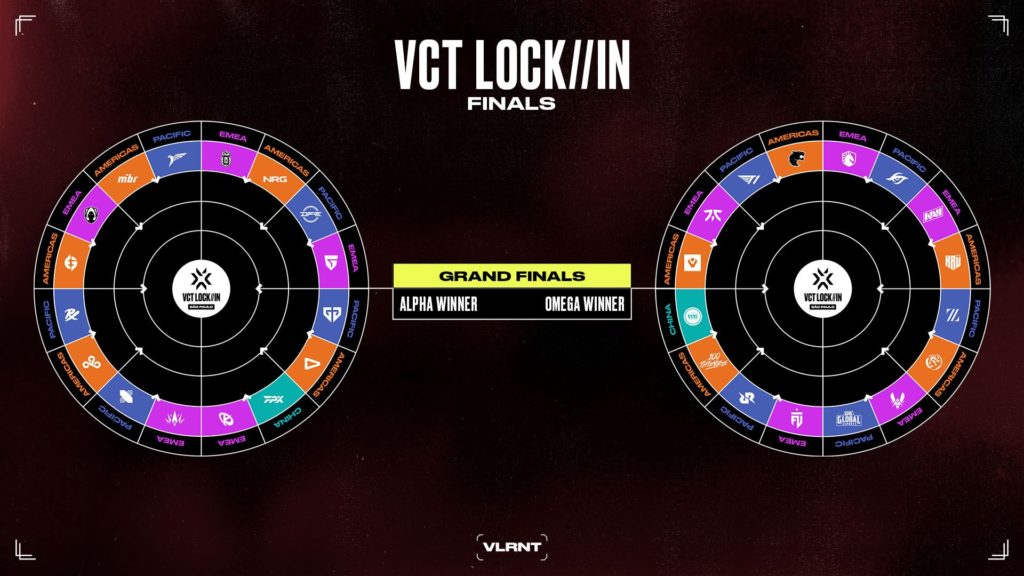 Image via Riot Games
As a result of the single-elimination double-group format, 16 teams will be sent home after playing one best-of-three from Alpha and Omega.
In the final stage, once two teams remain from each group, the four teams will face off through the semifinals and grand finals. The final stage will feature a best-of-five format.
Future events will feature a double-elimination format, according to Riot.
The LOCK//IN tournament will begin on Feb. 13 and conclude on March 4.