Dota 2 matches can be prolonged beyond expectations. When thats the case, players might feel the need to step away for a bathroom break. While a recent Dota Pro Circuit match between Tundra Esports and Into The Breach was close to the average game time, skiter couldnt hold it in any longer.
The well-hydrated Tundra player asked if he could pause the match for a bathroom break and PGL admins denied his request, according to skiter. Instead, skiter claims he was told that he could use a bottleand that is exactly what the TI winner did.
The situation occurred during the final minutes of the last game between Tundra and ITB. At the 55-minute mark, Tundra players paused the game and skiter used all chat to let everyone know of the situation.
Alright guys, skiter said. I just peed in a bottle on camera.
As skiter returned to his top form with a relieved bladder, Tundra wrapped up their final attack on ITBs Ancient in the next four minutes. While many players may be understanding of the situation and could have agreed to pause the game for a restroom break, it isn't something that's allowed according to the Dota Pro Circuit rulebook.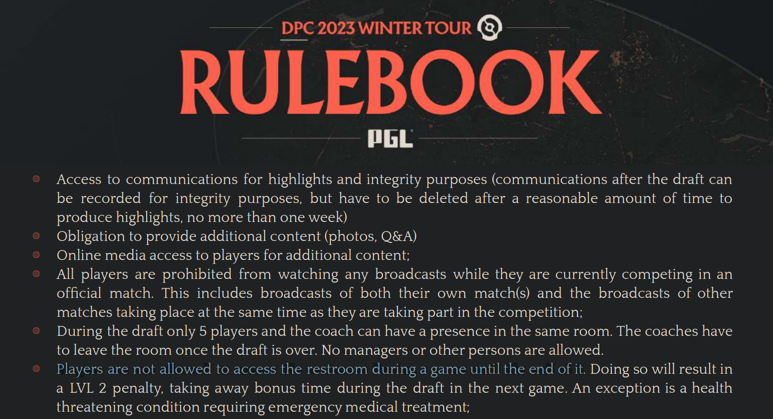 Screengrab via
DPC 2023 Winter Tour rulebook
Pauses for bathroom breaks have not been allowed in competitive matches for quite a while, and players are also required to stay on camera throughout the entirety of a game. Even if a team were to force a long pause citing lag or other hardware issues, players would never be allowed to go to the restroom due to the camera rule.

Screengrab via
DPC 2023 Winter Tour rulebook
Considering the camera rule is necessary to protect the integrity of online matches, skiter happened to find the ultimate compromisea strategy that other teams can use during long matches in the future.