For anyone who started following CS:GO in 2017 onwards, the name Astralis was undoubtedly associated with the word success and the Danish organization absolutely deserves the credit. Spearheaded by stars such as dev1ce and dupreeh, the all-Dane team went on to win four CS:GO Majors between 2017 and 2019, in addition to adding multiple other S-tier trophies to their gallery, while also defining the meta other teams tried to emulate during that time.
But for anyone who started watching CS:GO esports in 2021, the name Astralis isn't directly associated with success. Not only did arguably the most feared organization in the history of Valve's FPS fail to lift a single trophy that year, which had never happened before, but it also lost crucial pieces, first with dev1ce leaving to join Ninjas in Pyjamas in the first semester and later with the trio of dupreeh, Magisk, and head coach zonic departing to build a new project for Vitality in 2022.
Astralis hit an all-time low in 2022 when the players didn't qualify for the IEM Rio Major in November, causing the organization to miss its first Valve-sponsored tournament since the club was created in 2016. This prompted big changes in Astralis, including a coach swap and, most notably, the return of dev1ce, since neither of the AWPing choices the team made worked after his departure in 2021.
There was only one missing piece in Astralis for 2023 after the departure of analyst Frederik "LOMME" Nielsen in December. And despite the new hire being kind of written all over the wall, fans still can't believe Astralis actually pulled the trigger and appointed the infamous former coach of Heroic and two-time cheater Nicolai "HUNDEN" Petersen as head analyst today.
Depending on what happens, this move could forever tarnish the reputation of Astralis. Given how far HUNDEN has gone in trying to justify his acts in the past, Astralis is taking a serious risk in associating its image with him.
A report by Dexerto in August 2022 revealed HUNDEN worked with the Astralis players through a partnership with Aim Lab and the Danish organization made it clear that its doors would be open to him after he served his time. Well, one month after HUNDEN's suspension was lifted by ESIC ahead of time, Astralis has given him this opportunity to come back to professional CS:GO.
Related: CS:GO community enraged over absolutely shameless HUNDEN signing by Astralis
After a long career as a CS:GO in-game leader for tier-two teams in Denmark, HUNDEN made the switch to coaching in 2020 and was hired by Heroic, Astralis' No. 1 rival in the country. His coaching abilities were recognized very early as he helped Heroic become a much better team during the online era of CS:GO at the peak of the COVID-19 pandemic. With him sitting behind the players, Heroic won their first notable event since the organization was created in 2016 at ESL One Cologne Europe Online in August 2020.
Heroic and HUNDEN, though, barely had any time to celebrate since HUNDEN was slapped with a suspension by the Esports Integrity Commission (ESIC) in September 2020 alongside 36 other coaches. The reason? He was one of the people who abused the coach spectator bug, a form of cheating that allowed the coaches spectating the online matches to place their cameras anywhere on the map and obtain an unfair advantage over their adversaries. HUNDEN always said that the players didn't know he had used this bug in two separate matches and took all the blame for it.
Astralis, at the time, doubted that the Heroic players didn't know what HUNDEN was doing. The founder and chairman of Astralis, Nikolaj Nyholm, implied the players knew everything and caused an uproar on social media.
HUNDEN remained as an analyst for Heroic until April 30, 2021, when his ban expired and he could return to activities. Not long after it, he entered the history books as one of the few people to get banned for a second time. After Heroic and ESL got suspicious ahead of IEM Cologne in July 2021, an investigation conducted by the ESIC concluded that HUNDEN tried to leak Heroic's strategy folder to another team attending the tournament while he was trying to move on from Heroic and join another team, and banned him for two years due to creating a threat to the integrity of the game.
This time, however, HUNDEN didn't take the blame quietly. Assuming that he would be out of CS:GO esports forever, HUNDEN accused the Heroic roster of 2020 of being complicit with the abuse of the coach spectator bug through an interview with Danish media. This led to the ESIC investigating cadiaN, stavn, TeSeS, b0rup, and niko.
The investigation couldn't find enough evidence to punish cadiaN, stavn, TeSeS, and b0rup, but it did find out that HUNDEN explicitly took advantage of his relationship with niko and manipulated him to help with the coach spectator bug. Niko has ADHD and Aspergers Syndrome, which are medical conditions that can affect a persons ability to know right from wrong [and] make values-based decisions on [their] own, according to the ADHD and Aspergers Team at the National Autistic Society and the ADHD Foundation. Because of that, the ESIC only warned niko and put him on a six-month probationary period.
Related: Who is HUNDEN and why was he banned from CS:GO?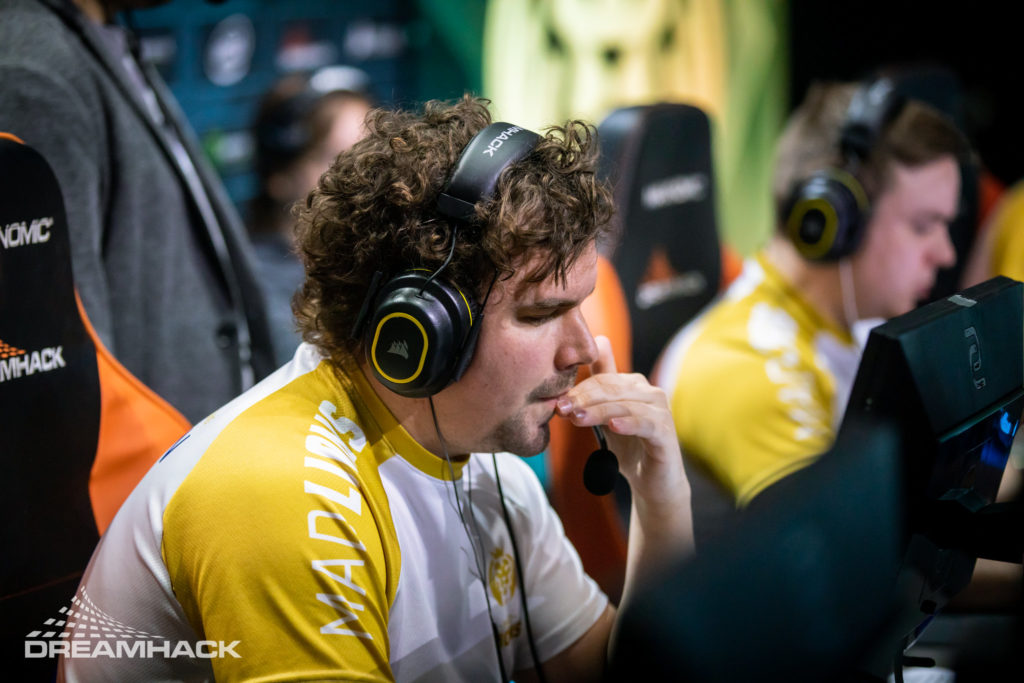 Photo via DreamHack
First of all, I absolutely think people deserve a second chance in life and that everyone can commit mistakesthat is what humans do. For me, however, the abuse of the coach spectator bug and trying to share the strategies of Heroic aren't the nucleus of the whole controversy involving HUNDEN.
A lot of people have cheated since CS:GO was created. Even s1mple, the greatest player to ever touch this game, admittedly cheated at the beginning of his career. What we can't forget, though, is that HUNDEN, a grown-up adult who had been competing since 2009 in Counter-Strike: Source, abused his relationship with niko, who has ADHD and Asperger's Syndrome, and tried to throw every one of his Heroic players under the bus and potentially ruin their careers the second time he was banned. This showed his true character and what he's capable of doing.
Secondly, HUNDEN also betrayed Heroic as an organization, who kept him on the payroll during the whole time he was banned for abusing the coach spectator bug and allowed him to work with the players as an analyst.
At this point, HUNDEN's unethical acts should have burned all his bridges at the top of CS:GO. But somehow, an organization like Astralis is more than happy to open its doors to him because of all the clear talent he has in coming up with strats and analyzing CS:GO. For now, he'll only be working in the background and people won't see his face, but who can guarantee he won't become the team's head coach in six months should the current coach Peter "casle" Ardenskjold fail to get the most out of dev1ce and crew?
Is this the example we want to set for youngsters, to potentially allow a two-time cheater and someone who has a harmful persona to coach in the top events of CS:GO esports again? And perhaps most importantly, should Astralis put its faith in someone like HUNDEN to assist in trying to steer the org back to the top?
We don't know how this story will unfold, but if HUNDEN slips up once again, this could forever change the image of Astralis. The Danish club will no longer be solely attached to success and instead will be associated with an infamous cheater. From this point on, the legacy Astralis has built since 2016 is at risk.