In VALORANT's competitive in-game ecosystem, the Radiant rank reigns supreme, representing the highest tier a player can achieve. The agent pick rate data we can acquire from Radiant gives us a good idea of how high-level players are navigating the meta, but there's one anomaly that really stands out.
Phoenix is the 'best' agent in Radiant from a statistical standpoint, and yet has the fourth lowest pick rate of any agent, just narrowly beating out Harbor, Yoru, and the least-picked agent Neon. Yet, he leads in every major stats category, according to data from Blitz.gg.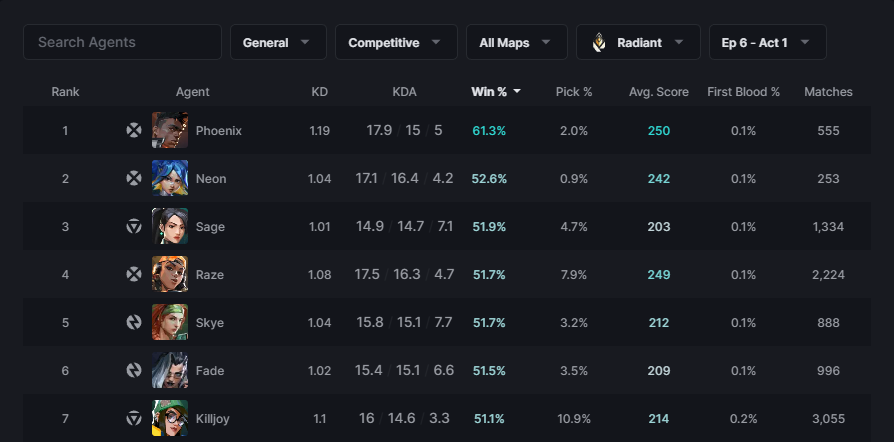 Image via
Blitz.gg
So far in Episode Six, Act One, Phoenix has the highest overall K/D of any agent at 1.19, via an average of 17.9 kills and five assists against 15 deaths on average. The next highest agents in Radiant by K/D are Chamber, Reyna, Astra, and Jett. Fittingly, Phoenix also holds the highest overall average combat score (ACS) of any agent in Radiant at 250.
Phoenix isn't just dominating when it comes to individual stats, though. The fiery duelist has the highest overall win rate by a significant margin, with a 61.3 percent win rate at time of writing. For context, the next six agents in win rate (Neon, Age, Raze, Skye, Fade, and Killjoy) have all won only 51-53 percent of their matches.
But is Phoenix actually underrated, or is this just evidenced by a small sample size? It's worth noting that the further down the ranked ladder you go, his pick rate goes up slightly, but his win rate, K/D, and ACS all go down. However, it appears that Radiant players are finding ways to use Phoenix as more than just a solo playmaker.
Phoenix is an exceptional agent for zoning off sites and angles, using his Blaze to wall off angles and his Hot Hands to flush enemies out of corners and hiding spots. For attacking teams struggling to get past Killjoy's utility, his Run It Back ultimate is so impactful for clearing out Alarmbots and Nanoswarms.