Friday, May 5 saw the quarter-finals of the Rainbow Six Copenhagen Major, which was almost completely dominated by the four remaining Brazilian representativessave one last hope from North America.
After nine days of games, the Rainbow Six Copenhagen Majors 24 teams had been whittled down to eight for the finals stage. Four teams remained from the Brazilian league, two from the European league, and one each from the North American and Japanese leagues, who each were set to play in a best-of-three quarter-final.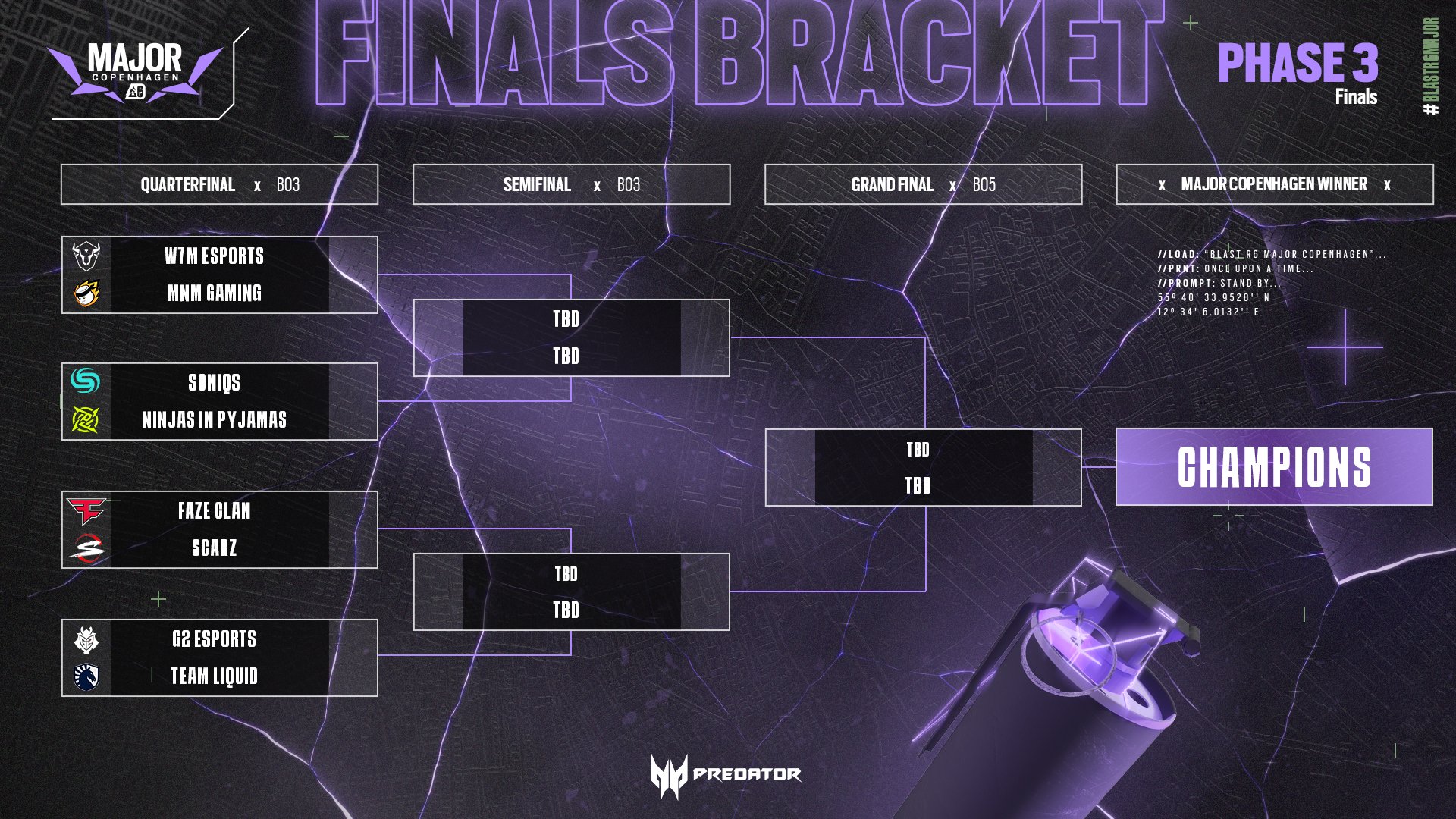 Image via Ubisoft
As NAs last representative, Soniqs garnered the most attention from fans and pundits alike. The majority-American lineup had come into this tournament as NAs fourth-seeded roster after a weak NA league stage and a first-round elimination at Marchs Six Invitational playoffs.
This was despite signing what was considered a super roster as 2022s NA league rookie of the year Shaun "Gunnar" Pottorff in September alongside Mexicos Emilio "Geometrics" Leynez, who came from the 2022 Six Invitational winning TSM roster. Finally, in January, Englands Ben "CTZN" McMillan joined from G2 after previously winning the ESL Pro League Season 10 title. It was a team built for success.
Now they were set to face the ex-World Champions, Ninjas in Pyjamas, to keep their title hopes alive.
But it would be Soniqs who struck first as, for the first time in the quarterfinal matchday, a Brazilian squad didnt win a series opener. Despite it being NiPs map pick and leading 6-3, Soniqs defences were top-notch, putting on a five-round streak which included triple kills from Gunnar, CTZN, and Richie "Rexen" Coronado.
With almost all prior series going three maps, it was nearing midnight in Copenhagenleading most fans in the arena to clear out for the day. This was a shame for NiPs Raul "kondz" Romão as he performed admirably with two flashy quad kills to keep NiP in the game.
Unfortunately, these eight kills were more than half of his series total of 14, as NiP couldnt quite do enough. A one-versus-one clutch by Geometrics on Montagne and a triple kill from Pablo "Gryxr" Rebeil gave Soniqs a 7-5 win, sending them through to their second Rainbow Six Major semi-final in a row.
This one late-night defeat for Ninjas in Pyjamas was the days only disappointment for Brazilian fans as their three other representatives took their own games in a much closer fashion.
Japans SCARZ faced arguably the toughest team left in the tournament in Brazils FaZe Clan. With the Asia-Pacific region having a historically bad tournament so far, SCARZ had largely been dismissed coming into the game, with it initially looking like they could not put up a fight. 
Related: Rainbow Six Copenhagen Major play-ins end with APAC teams on devastating 21-game losing streak
SCARZ lost their own map pick 7-3 before going down 3-0 in map two. While the team suddenly found a new lease of life to win seven of the next eight rounds, map three was less kind to them with another 7-3 loss, seeing FaZe progress through to the semi-finals, and sending APACs last hope home.
Despite the loss, this was still Japans best international performance in four years. Considering the team only made its professional debut in March after stalling in the Japanese national leagues for the last few years, they performed surprisingly well and partially redeemed an otherwise horrid event for the wider APAC region.
MNM Gaming from Europe faced the 2023 Six Invitational runners-up w7m esports, with the addition of Julio Giacomelli as MNM coach elevating the squad's performance in a tense quarterfinal.
Map one went narrowly to w7m as they won three rounds in a row to end the map 8-6, while MNM swept map two with a 7-3 scoreline. Onto Villa, MNMs title dreams broke down as w7m ended their defensive half up 5-1 before any hope of a comeback was quickly shut down by five kills in two rounds by Jv92.
There was a lot of pride on the line in the following match between G2 and Team Liquid. Already a storied rivalry, tensions between the squads were raised after roster changes saw each squad led by former Rainbow Six champions and teammates Karl "Alem4o" Zarth and Lorenzo "Lagonis" Volpi respectively.
Despite the build-up, the game was ultimately one-sided as Liquids firepower largely neutralised Benjamin "Benjamaster" Dereli, who had been G2s biggest asset in the tournament. A 7-3 on Oregon to Liquid was countered by a 7-4 on Skyscraper by G2, with a one-versus-four ace by Gabriel "volpz" Fernandes the clear play of the day.
Nevertheless, Fridays results mean the Rainbow Six Copenhagen Major is guaranteed at least one Brazilian grand finalist for the fourth consecutive tournament with a third all-Brazilian grand final possible for the third time in just over two years.
The Copenhagen Major resumes on Saturday, May 6, with the Rainbow Six El Clásico semifinal between Team Liquid and FaZe Clan kicking off the day.