For the past nine weeks, Overwatch 2 fans have been enjoying a season full of Greek and Roman mythology that also introduced the games newest hero, Ramattra. It was also the season of Roadhog dominance, leading to one of the sequels first balance patches outside of the usual initial and midseason offerings.
No new heroes will be introduced when season three begins on Feb. 7, but that omission appears to have freed the dev team to fix community pain points, add more mythological sparkle, and bring back some of the light-hearted fun that made Overwatch what it is. 
Asian Mythology theme
Season threes theme is once again inspired by ancient mythology, but the design team has headed to the other side of the globe this time around. Tales from Korea, China, and Japan will be represented in skins available inside and outside the battle pass and the team hinted some have lore connections that should excite fans.
In accordance with the theme, this seasons Mythic skin is Amateratsu Kiriko, inspired by various deities in Japanese mythology. Players can customize the skin to reflect elements of the moon, the sea, and storms. Even Kirikos kitsune familiar gets a makeover with the Mythic skin, available by completing the season three battle pass.
Less related is the season's new Control map, Antarctica, which takes players to the freezing labs that held Mei and her coworkers for over a decade.
Valentines Day, Pachimarchi, and Loverwatch? 
Overwatch 2 players werent exactly impressed with the Lunar New Year event this past month, claiming it was simply a repeat of prior events with little incentive to grind for existing skins. Developers apparently took that personally and went off the rails in the best way possible for season three. 
The games first Ultimate Valentines Day event runs from Feb. 14 to Feb. 28 and includes a four-vs-four mode revolving around Hanzo as well as Support-themed challenges. Multiple epic skins will be available as well as other rewards.
Players will also get to add a little love to their lives when the Loverwatch dating sim launches on Feb. 13. The text-based dating sim allows fans to live out their dreams of romancing either Mercy or Genji, assisted by a Cupid-like figure who looks suspiciously like Hanzo. By unlocking a secret ending, youll earn a highlight intro. 
Pachimarchi, the celebration of all things Pachimari, will also return on March 21. Players will get another shot at earning the Pachimari Roadhog skin, but can also nab tons of other round and fuzzy rewards, like player icons and a name card.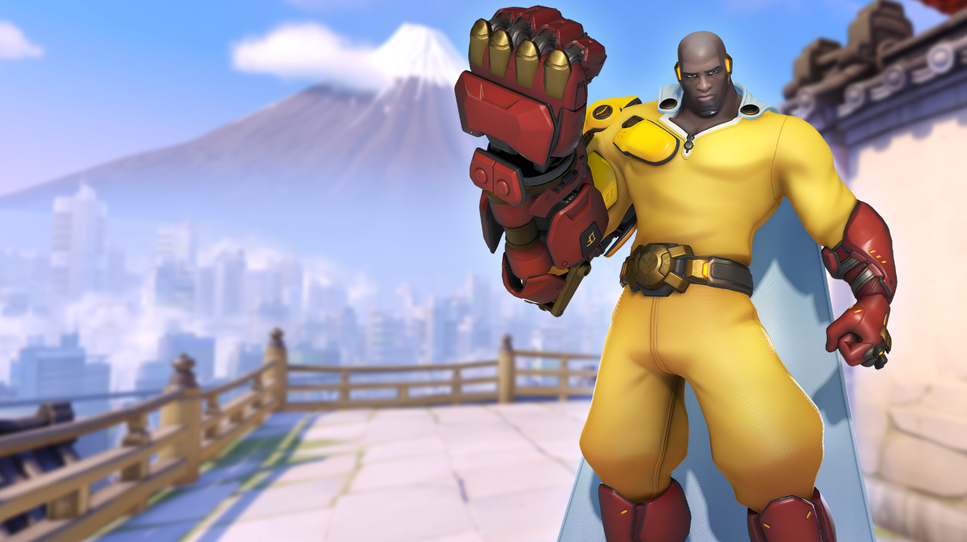 Image via Blizzard Entertainment
One Punch Man meets Overwatch
The development team has been teasing IP collaborations for years and in season three, Overwatch 2 will finally get its first real crossover. One Punch Man, an anime classic, tells the tale of Saitama, who can defeat any opponent with a single punch. Fittingly, Doomfist will receive the collaboration skin, which turns him into the world's best Saitama cosplayer. We really hope this doesnt give a secret buff to his one-shot potential.
Quality-of-life changes abound
In a series of developer blogs posted last week, the dev team repeatedly stated theyd been hearing the criticism and feedback from the fans and would put forth changes in season three that should improve the player experience.
Related: Overwatch 2 fans reveal the one thing theyre looking forward to most in season 3
Competitive mode has been a sore spot for players for most of season two, but it will undergo a minor overhaul when season three begins. Players will now only have to win five games (or lose 15) to see a rank change, down from the seven wins previously required. The matchmaker will also now try to pair roles at similar levels in the lobby to avoid disparate teams, which means Gold supports will no longer have to fistfight a Masters Mercy.
The full patch notes will be posted later today and former Overwatch League player Seagull will be discussing them on his stream at 2pm CT. Ramattra gets an extremely necessary nerf to his ultimate while the maximum ultimate charge retention for all heroes will be dropped to 25 percent from the existing 30. 
Workshop mode will be returning in season three alongside enhanced moderation tools to make those lobbies a bit safer. As announced earlier in the week, streamers will also finally have protections in place if they choose to use them, like hiding their BattleNet tag and the names of those in the lobby with them. 
More rewards, fewer problems
One thing the development team has heard loud and clear is the need for Overwatch 2 to feel more rewarding. As a result, additional goodies are scattered throughout the game, especially for free-to-play enthusiasts. 
Players will get the first five free tiers of the battle pass awarded to them just for logging in from Feb. 7 to Feb. 14. Ten additional tiers of rewards will be added to the free path of the battle pass and 500 extra premium credits will be available on the paid side.
Credits are coming back into vogue in season three with the team adding hundreds of original Overwatch skins to the Hero Gallery to be purchased at any time with coins or credits. An additional 1,500 credits will be available in the free path of the battle pass so you can snap up any legacy skins you may have missed the first time around.
Season three begins Feb. 7 and will last nine weeks, ending in April.