A partnership between VALORANT developers Riot Games and B2B software company GRID has enabled the release of a new data portal for competitive teams, with a match replay system on the cards, according to the press release.
The release of the data portal will allow competitive teams to gain access to detailed data from official esports matches, including the ability to get data from their own scrims. In the graphic provided by GRID of the portal, a match replay file can be downloaded as well.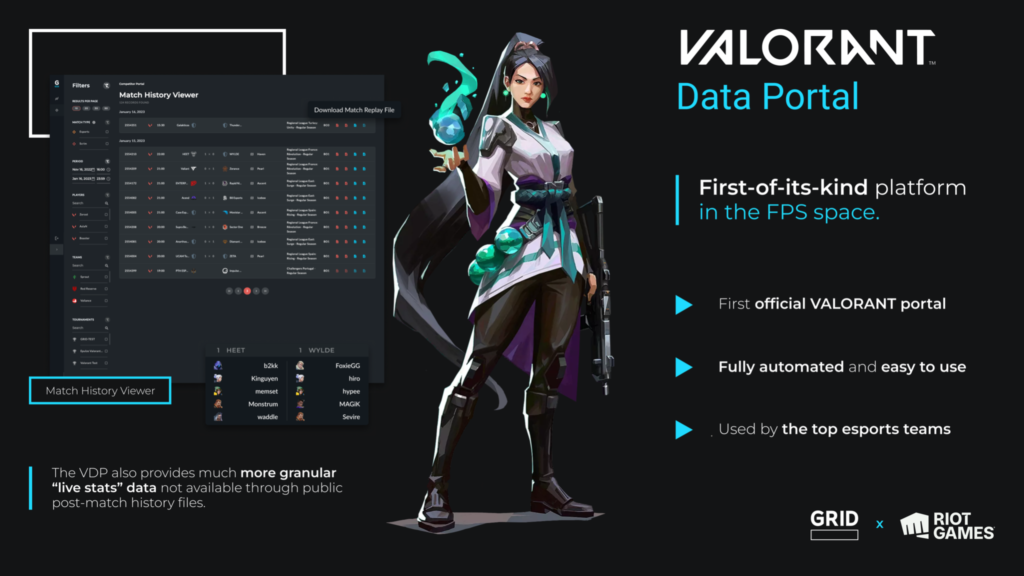 Image via GRID
The portal is being rolled out to all 30 partnered VCT teams from across the world. Each team will have access to the portal to allow teams to gain more insight into their squads performance without having to rely on other services or manual checks. 
But plans to share the portal with the wider VALORANT player base will be released at a later date, according to the release. So players may be able to gain statistical knowledge of their own games and even get to watch back their demos. 
We are excited to be working with GRID on crafting the future of esports data for the VALORANT Champions Tour," lead of competitive data programs for esports at Riot Games John Knaus said about the acquisition. "GRID as a partner is highly aligned with our goals around data accessibility and Riots core values. The VALORANT Data Portal is the first step in our shared vision for how we make official VALORANT data more broadly available, starting with our professional teams.
A replay system has been heavily sought after by the VALORANT community for some time. Last month VALORANT lead Anna Donlon said that a replay system is in development, but it seems professional players may gain access before the public with the third-party GRID portal.
This portal is officially sponsored by Riot, so the third-party tool is not bannable.