Yesterday Riot Games unveiled more details on the 2023 Mid-Season Invitational, including the dates, location, and ticket information, as well as giving fans a potential clue about the event's official anthem.
League of Legends fans are always looking forward to the competitions songs that Riot creates specifically for its events, and this year the anthem might have been hinted at sooner than ever.
The first announcement for MSI 2023 came three months prior to the event, with Riot sharing vital information for all fans to plan their attendance. Along with the news, the company released the first official image linked to the event, which holds the logo, the location, the theme of this years MSI, and what might be a portion of the events anthem.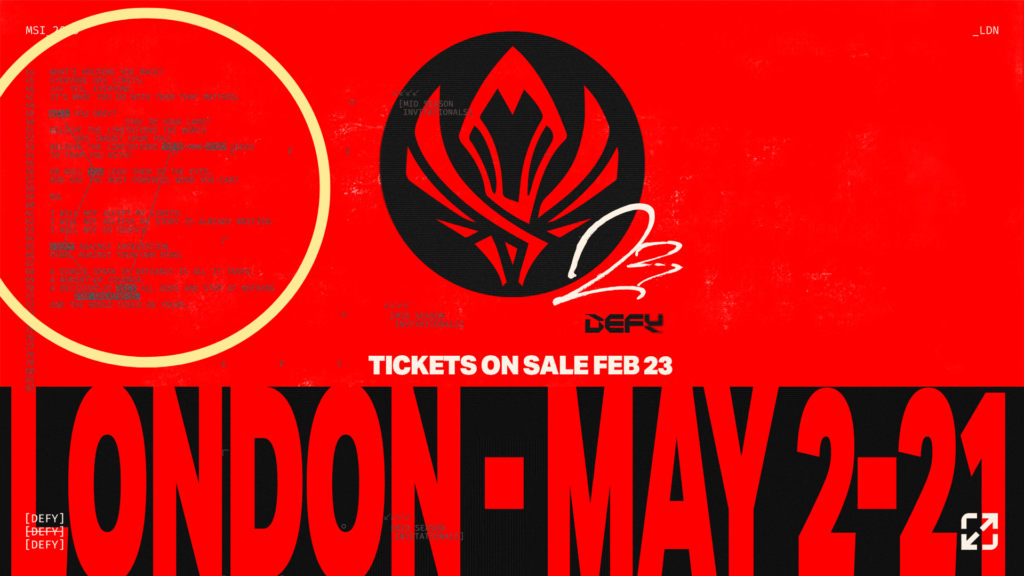 Image via Riot Games
On the left side of the header, there are 23 lines that seem to be the anthems lyrics from the way they are separated by a rhythmic metric typical of songs. The content of the lyrics would perfectly fit in with the MSI 2023 theme, which is DEFY, a word that is also highlighted on the third-to-last line. Including the theme of the event within its anthem is something that Riot has previously done with last years MSI, by incorporating the then theme "TAKE NOTES" into the song "SET IT OFF."
Dot Esports reached out to Riot for confirmation on whether the lines on the MSI 2023 official image are part of the events anthem. Unfortunately, that is something Riot is not yet willing to confirm or deny at this time.
League fans can expect the anthem to be revealed closer to the events start, which will kick off on May 2. As for the artist behind the composition, there are no hints yet. But since Riot chose a Korean artist for last year's MSI hosted in Korea, It would come as no surprise if the MSI 2023 anthem were to be sung by a British singer.