Call of Duty: Modern Warfare 2 was the most downloaded game on the PlayStation 5 for the month of October.
The latest Call of Duty title has triumphed over popular games like Gotham Knights, FIFA 23, and NBA 2K23 for the most downloaded game on the console in October in the U.S. and Europe. PlayStation released a blog post today detailing the top 20 games downloaded in both regions based on different criteria. MW2 was the most downloaded game on the PS5 and the PS4 in the U.S. and was the second most downloaded game for the PS4 in Europe behind FIFA 23.
MW2 officially launched on all platforms on Oct. 28 and has skyrocketed since then with millions of copies sold and downloaded across the globe. Despite only being available for the last few days of the month, MW2 toppled games that had been out for much longer, cementing itself as the No. 1 game for the PS5 for the time being.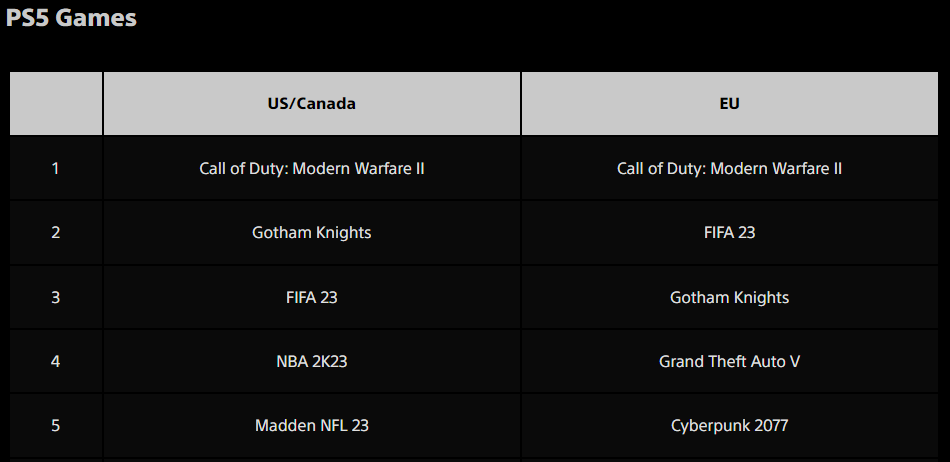 Image via PlayStation
The hype around MW2 should come as no surprise considering Activisions special treatment of those playing on PlayStation. Not only were PlayStation users granted more access during the beta but they also received an exclusive operator for pre-ordering the game. Oni is just one of the many operators in the game but comes as an added bonus for those playing on the platform.
The PlayStation exclusives dont stop there, either. Oni will be getting some additional accessories in the form of a calling card and emblem to add to his kit. Additionally, PlayStation users will be receiving added benefits like battle pass tier skips and extra XP for playing with friends.
While MW2 has seen success on the charts for other platforms like PC and Xbox, having these added exclusives most definitely helps the number of downloads on PlayStation. Many fans will be curious to see if MW2 can keep its No. 1 spot throughout the month of November.