Fans of Overwatch 2 are getting the collaborations they were promised when the developers told them that they were looking to do them, and the Kiriko One-Punch Man skin that was revealed today is the first skin in the collaboration. It is also the first major non-Blizzard collaboration the studio has designed new skins for since it teamed up with Lego for the Bastion skin.
The collaboration was first announced last month when Blizzard revealed it's making a Saitama skin for Doomfist. Kiriko's skin is the second to have its art revealed after Doomfist's was shown a month ago.
The Kiriko Legendary skin Terrible Tornado will come as part of a bundle that will cost 2,100 coins in the Overwatch 2 store. Purchasing the bundle will score players the skin, the Terribly Impressive victory pose, and the Terrible Tornado name card. This skin and the rest of the collaboration event items will be available from March 7 to April 6. Most items from the One-Punch Man set will only be available for purchase, but the developers have said that one of the skins will be earnable through in-game challenges. It hasn't been revealed yet which skin that is.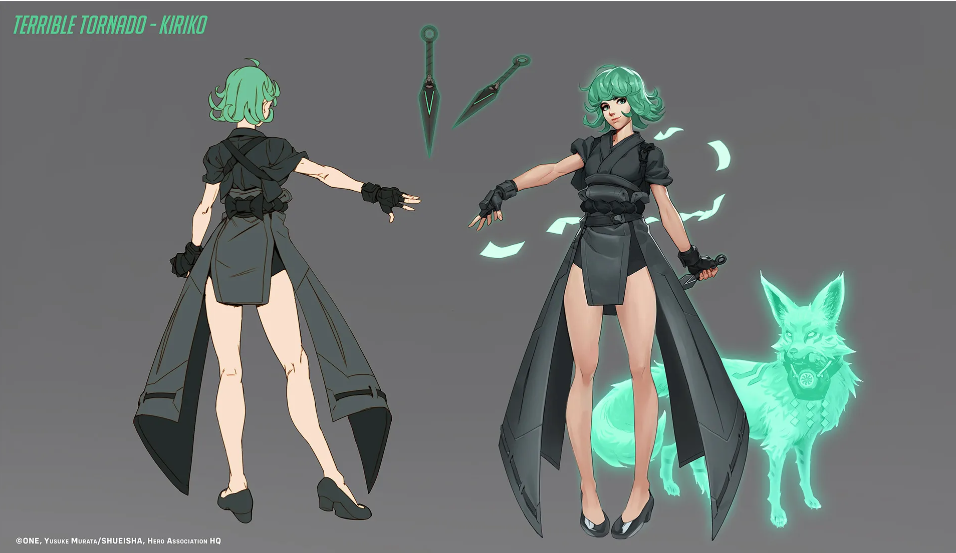 Image via Blizzard Entertainment
Art director Dion Rogers said the team was pretty excited about the idea and that the collaboration felt right to them, especially since game director Aaron Keller was already familiar with the anime.
Its something weve been wanting to do for a while, Rogers said. You know, Overwatchs art style is kind of a marriage of West-meets-East aesthetics and values theres a bit of an anime look to Overwatch. So, being fans of anime, we were looking for a partner to collaborate with. And we looked at various studios, and then when One-Punch Man came up, it was surprising how many people on the team knew the anime, they loved it, they watched it."
Related: This cute Overwatch 2 Kiriko fanart grabbed the attention of Blizzard
After this collaboration, the Overwatch 2 development team is hoping that they can team up with more studios to do something similar, perhaps with Dragon Ball or Street Fighter.