King of Fighters XV is set to have a huge 2023 with important quality-of-life updates and multiple pieces of DLC expected to keep the battle rolling through the end of the year. And players wont have to wait long to see the first wave of new content hit the game either.
In a new video, SNK confirmed a release date for Shingo Yabuki and additional release windows for the other five DLC characters in the current Fighter Pass.
Shingo will make his KoF XV debut on Feb. 17 and will be followed by Kim Kaphwan, who was also revealed alongside the next Fighter Pass back at Evo 2022 last August. Kim is set to be a Spring 2023 release and was the only other character fans knew about before this announcement. Ringo will also get a special costume included with his character for free.
Now, we know the electric Sylvie Paula Paula and shrouded Najd will return this season too. Both debuted in KoF XIV as new fighterswith Najd actually a character designed by a fan that won a contest to have a design included in the game. These characters are still in the early stages of development and are scheduled to release this Summer. 
The final two fighters are listed for an Autumn and Winter release respectively. Fans will likely hear more about them at FGC tournaments this Summer when SNK is ready to showcase them.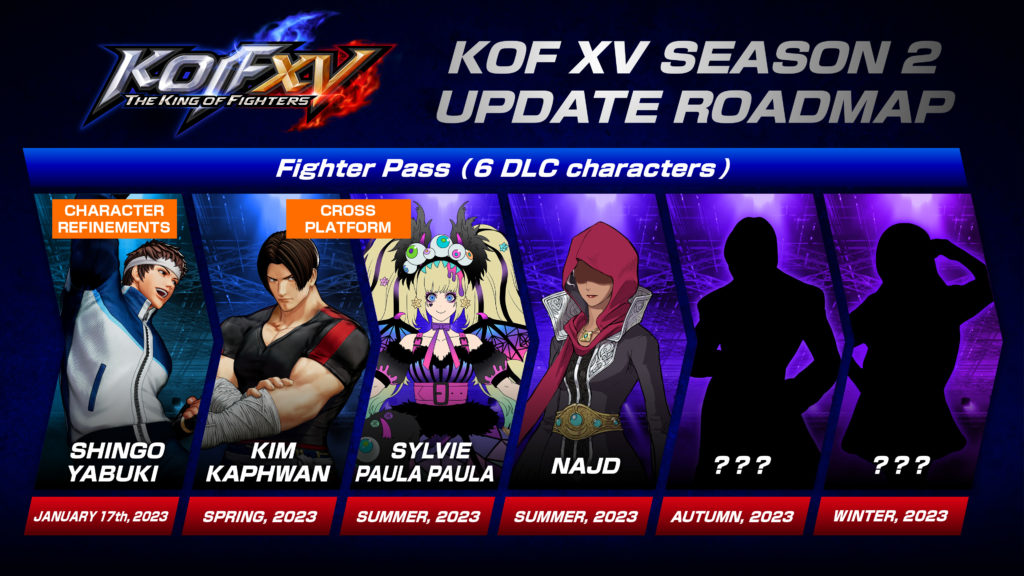 Image via SNK
Along with all of these new fighters, SNK is also still releasing several quality-of-life updates for the game.
This starts with character refinements launching on Jan. 17 alongside Ringo and cross-platform play coming to all versions of KoF XV in Spring, though there is no set date yet. This means players will get to play with anyone across Xbox, PlayStation, and PC very soon. 
And dont forget Samurai Shodowns rollback netcode update will begin its testing period on Steam later this month too. No additional DLC plans have been communicated for KoF XV, but it is likely more news about the yet-to-be-revealed characters and any future updates will be shared in the coming months.