Gamescomthe massive annual game industry show that takes place in Cologne, Germanyis only a few hours away from hosting its Opening Night Live show. The two hour-long event is sure to be filled with new game reveals, trailers, release dates, and surprises from the over 500 companies signed up to show off their latest and greatest projects. If you're interested in seeing what the future of gaming will hold, you've come to the right place.
When the show starts at 1pm CT, we'll update this article each time an announcement is made. Keep refreshing the page to see updates as they happen, straight from the show floor to you. After the show ends, check out the Dot Esports homepage for more in-depth coverage of all the titles you're excited about.
---
1:25pm CT: Lords of the Fallen
Lords of the Fallen is an action-adventure title in a dark fantasy world. No release date was given, but the game received a CG trailer and is available to wishlist now on Steam, PS5, and Xbox Series X/S. It was originally called Lords of the Fallen 2, but the developer dropped the "2" and changed focus. Lords of the Fallen is developed by Hexworks Studio ins association with CI Games.
1:20pm CT: Callisto Protocol
New gameplay trailer shows off exploration. Existing release date is Dec. 2.
1:17pm CT: New PlayStation controller
New type of PlayStation controller available: DualSense Edge wireless controller. Highly customizable, likely intended as a competitor to Xboxs Elite controller.
1:15pm CT: Dune: Awakening
The cinematic trailer was revealed for the Dune-themed open-world survival MMO Dune: Awakening from developer Funcom in collaboration with moviemaker Legendary. Available on PS5, Series X/S, and PC. More info here, with a beta coming soon. Registration is open now.
12:26pm CT: Stage is set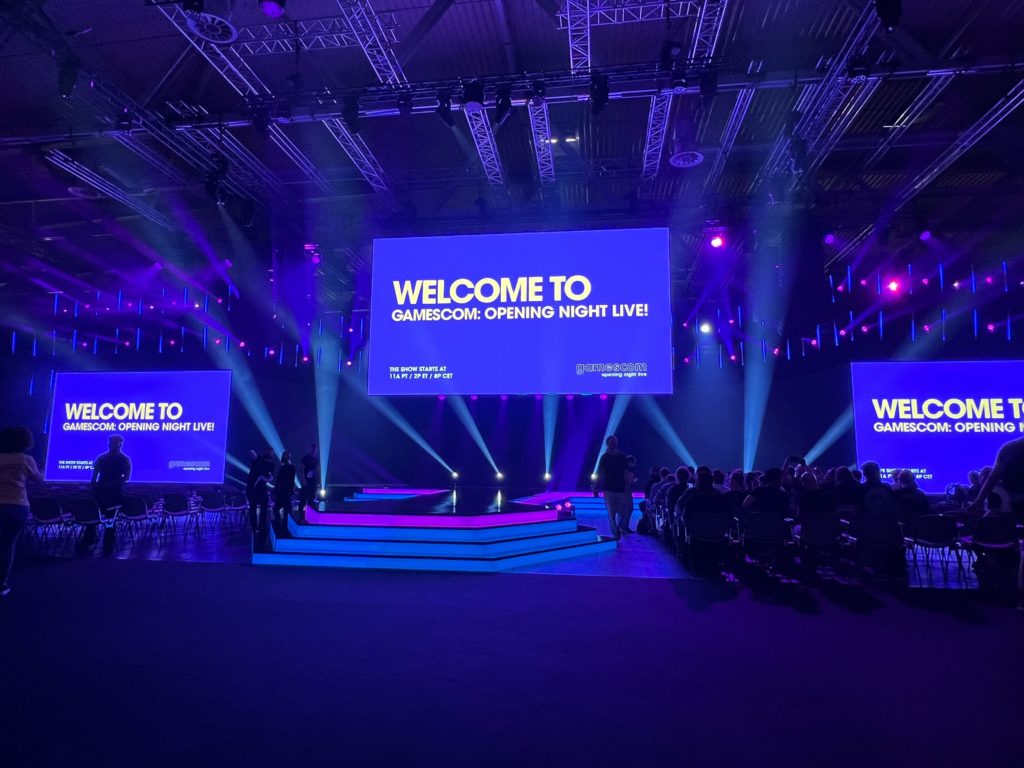 Photo via Adam Newell
Attendees are slowly filing into the Gamescom stage and getting ready for the show.
Thanks to Geoff Keighley, we have an idea of what to expect at the show. In addition to big AAA heavy-hitters like Borderlands, Genshin Impact, and Sonic Frontiers, players will be able to get a peek at titles like Goat Simulator 3 and Hogwarts Legacy. All told, over 25 games will be shown during Gamescom's Opening Night Live.
While fans have a good idea of what will be shown, there will also likely be surprises and big reveals that aren't widely known. Make sure to keep this page refreshed to read about everything as it happens.
---
We'll post updates as games are revealed and information is shared.