It's almost unbelievable that G2 Esports became the best CS:GO team just months after they failed to qualify for the IEM Rio Major in October 2022. Most esports pundits were skeptical of Rasmus "HooXi" Nielsen's capabilities to lead a lineup full of star players until the Dane led G2 to win the BLAST Premier World Final in December 2022, which was G2's first big trophy since DreamHack Masters Malmö in 2017.
The year finished and G2 returned as sharp as ever in 2023, kicking off the new competitive season in the best way possible. They cruised past competitors at BLAST Premier Spring Groups in January and, most importantly, carried that form and confidence into IEM Katowice, the first $1 million CS:GO event of the year. G2 continued to dismantle opponents on Polish soilwhether they were FaZe Clan, Natus Vincere, or Team Liquidand secured the title against Heroic in the grand finals yesterday, while also establishing a new record of consecutive map wins (21). They now have the second-highest map win streak on LAN in CS:GO, only behind Ninjas in Pyjamas' historic 87-0 record between 2012 and 2013.
But what changed for G2 after the IEM Rio Major fiasco that has made them become the best CS:GO team in the world in less than four months? According to star player Justin "jks" Savage, everyone is more comfortable now, including him and HooXi. They joined NiKo, huNter-, and m0NESY on G2 in August 2022, but it's just nowadays that everyone truly believes in each other.
"The simplest answer is that everyone has stepped up more on the team," jks told Dot Esports after winning IEM Katowice yesterday. "Everyone is more comfortable with their position in the team in and outside the game. Everyone is helping out more and sacrificing more for the team, everyone believes in each other a lot more, and I think we're all just on the same page. It took us a few months to become a really good team and I didn't think it was the time during Rio, I was still pretty new on the team."
We can tell G2's system is working flawlessly based on their player stats during IEM Katowice's group stage and playoffs. Their three riflersjks, huNter-, and NiKofinished among the 10 highest-rated players with 1.24, 1.21, and 1.17 ratings, respectively, according to HLTV. The AWPer m0NESY nearly made it too as he finished with a 1.14 rating.
As for HooXi, his individual rating remained subpar (0.91) during IEM Katowice, but that's perfectly fine as long as his tactical system works and he gets the most out of the four star players. It definitely seems like the Dane gained the confidence of everyone on the team after guiding them to win the BLAST Premier World Final at the end of 2022.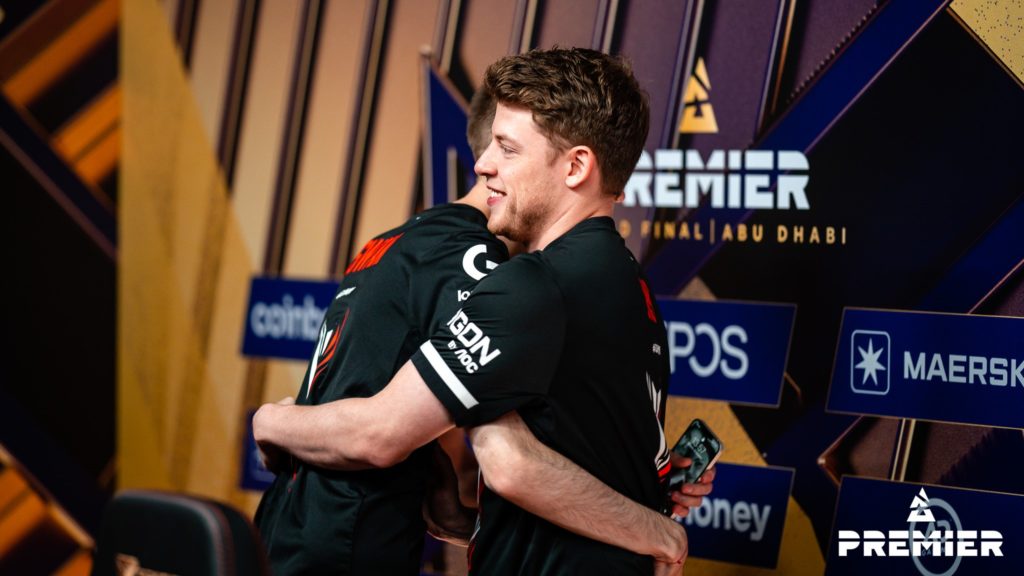 Photo by Michal Konkol via BLAST Premier
G2's challenge moving forward will be staying at the top. The scene is as competitive as ever and there is no particular team that poses a threat to G2, according to jks. The Australian rifler thinks that any top team has the potential to win tournaments in 2023.
"[We have to watch out for] all teams at the top," jks said. "It's the most competitive it has ever been and I think anyone from the top 10 can play well on a day or a tournament. It's just a matter of focusing on our own game, making sure we're constantly updating our own game, and making sure that we're ahead of everyone else."
Before G2 started being dominant, Vitality won ESL Pro League season 16, Outsiders lifted the IEM Rio Major's trophy, and Heroic won their first big event at BLAST Premier Fall Final. On top of these teams, FaZe, NAVI, and Liquid also have the potential to win tournaments.
The next big CS:GO tournament is ESL Pro League season 17, which will be played between Feb. 22 and March 26. There's still more than one week of preparation and, certainly, every top team will analyze how G2 played at IEM Katowice and practice to take them down. Jks and crew are in Group A alongside Cloud9, Outsiders, and Fnatic and must qualify for the playoffs to keep their confidence high.