The competitive experience of VALORANT is set to change soon when the new act/season-based tournament system known as Premier gets a global beta launch to start Episode Six, Act Three, most likely around the beginning of May 2023.
This "path-to-pro" system will allow players to form teams of five and compete in scheduled weekly matches taking place across a season during each act, culminating in a playoff bracket that will determine a champion for each skill tier (per region). Premier will eventually become the starting point for amateur players looking to reach VCT Challengers leagues.
The launch of Premier should provide a better competitive experience outside of just ranked play, one that has the potential to be far more rewarding than normal competitive. But while Premier has the opportunity to be more rewarding, perhaps Riot should take this opportunity to make competitive mode in VALORANT more rewarding.
Image via Riot Games
Compared to most multiplayer titles with a ranked/competitive mode, VALORANT lags behind when it comes to rewards. At the end of each episode, players receive a gun buddy of the highest act rank they achieved during the episode, plus an act rank badge they can display on a player card, and that's it.
Call of Duty launched ranked play in Modern Warfare 2 only recently, and while the mode isn't perfect, it is one of the most rewarding in terms of tangible rewards. There's a reward path for ranking up, a seasonal reward path for getting wins, and rewards granted to players at the end of the season based on their skill division. Players can earn all sorts of items like calling cards, emblems, weapon blueprints, charms, decals, operator skins, and camos.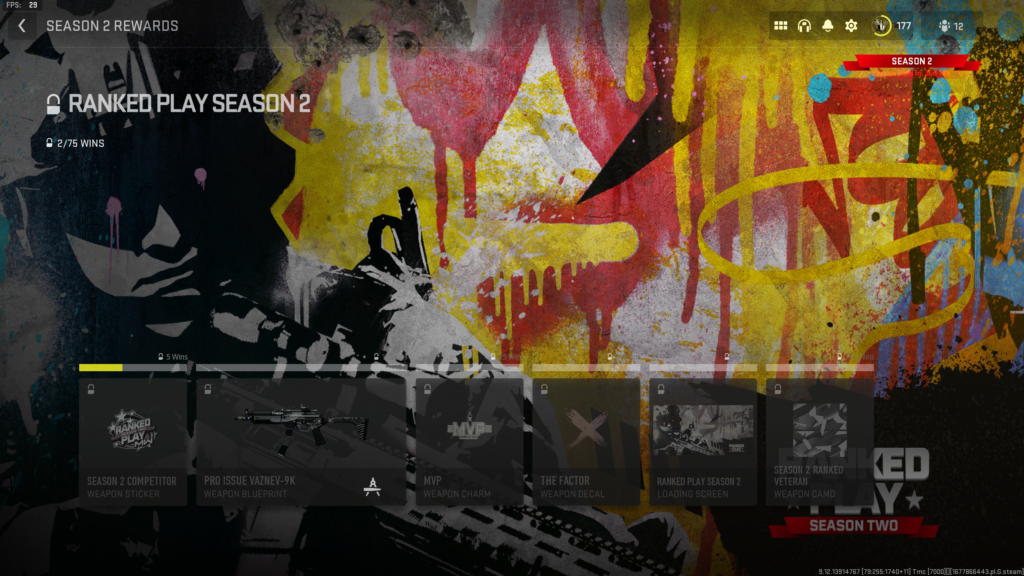 Image via Activision
Games like League of Legends, Overwatch 2, and Rocket League all have pretty robust reward systems for ranked play as well. Coincidentally, one of the few prominent multiplayer titles lacking in tangible competitive rewards is CS:GO, one of VALORANT's direct competitors. CS:GO players don't earn any items upon reaching a new skill tier in ranked.
With rumors abound that Valve is going to be launching a beta for Counter-Strike 2 soon, VALORANT could use some extra fuel in the tank. So what's the solution?
There are numerous avenues Riot can take when it comes to making ranked more rewarding in VALORANT. A short seasonal pass just for ranked play, similar to the one in MW2, with a handful of rewards is one method, especially if there's a tantalizing reward at the end like a weapon skin.
Overwatch 2 has a rewarding system as well, with a set of seasonal challenges that are strictly for ranked play, with players able to earn competitive points that can be used to unlock golden guns for each hero. Even small rewards like titles or Radianite would be an upgrade over what VALORANT has now.
With so much possible frustration that can occur in ranked VALORANT already, and with so many eyes looking away and back toward one of the game's biggest competitors, now is the time to really incentivize players to keep grinding.