The pay-to-win discussion around Call of Duty's DMZ mode received a new chapter this weekend, and it's leaving players more confounded than ever.
Yesterday, April 30, a Warzone 2 player posted a screengrab of a support email from Activision claiming that "to access Building 21, you must first purchase Modern Warfare 2. If not, only the regular DMZ is available for you."
This has never been the case prior to just recently, since free-to-play DMZ players without MW2 have always been able to access the high-tier DMZ map as normal. The tweet caught on and was reposted by CoD news accounts, and the justified uproar slowly began.
Related: Call of Dutys DMZ mode starts down slippery slope with new pay-to-win store bundles
"Absolutely disgusting from them," said one of the Twitter users who replied. "At least when they released the Crown faction they always said you had to own MW2 but Building 21 was part of the free to play experience and has missions on the free to play factions."
DMZ's pay-to-win accusations have ramped up over the past few weeks with several new store bundles that include exclusive boosts to the extraction mode, like operator skins including free loot like a UAV, armor plate bundle, and self-revive kit.
Soon, though, players began to peruse the Infinity Ward Trello board where the developer tracks ongoing issues within the game and found one labeled "investigating" that pertains to Building 21 in DMZ.
Related: Best 3-plate vests in Call of Duty DMZ season 3, ranked
"We are aware of an issue preventing some Warzone players from accessing Building 21 in DMZ when encountering a missing DLC pack message," the card on the board reads.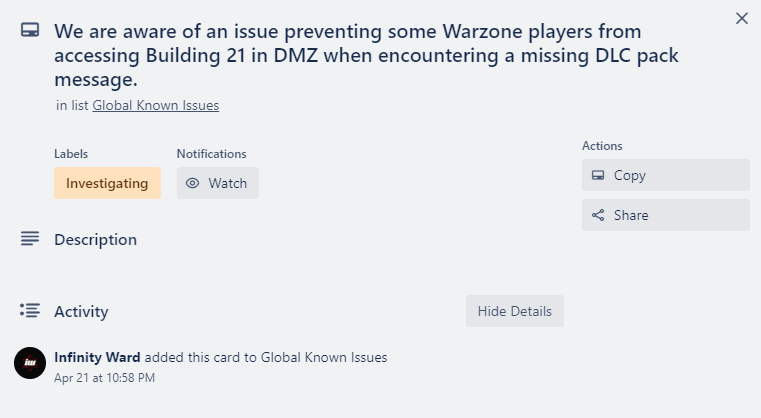 Screengrab via Infinity Ward/Trello
With two different lines of communication giving two different explanations for the issue, fans are rightfully confused about what's happening with Building 21.
Dot Esports has reached out to Activision for comment and clarification.