If anyone expected a clean-cut resolution to one 2023s early Dota 2 disasters, it looks like it isnt happening as a Chinese team that has been accused of cheating and match-fixing has suddenly disbanded after getting destroyed at the Lima Major.
Knights is a squad that formed from the ashes of Chinas gigantic roster shuffle post-The International 10 last October, with five players who are relatively well-known in the scene. And, even as they put together a strong showing in the Dota Pro Circuits Winter Tour, their entire performance was under fire. 
Back in mid-January, as things were heating up in the DPCs opening weeks, Knights was accused of using map hacks during competitive matches against other top teams in the region like PSG.LGD and Team Aster. It was called out by multiple community figures and the tournament organizer behind the event, Perfect World, gathered evidence and submitted it to Valvethough nothing came from it, at least publicly. 
Related: Forever 7.32: Muerta is finally here, but Dota 2 fans arent happy
Things only got worse for the team from there, as even after they managed to snag one of Chinas invites to the Lima Major they were accused of match-fixing in at least one of their closing DPC matches.
This partially extended to the Chinese scene as a whole too, with multiple sources stepping forward to point out odd spikes in betting odds surrounding certain matches.
These 322 claims surrounding Knights would only escalate further once the team actually arrived at the Major too.
In the group stage at Lima, Knights won just a single game out of 16 played. And attention was once again pushed onto them as several people pointed to more abnormal betting numbers when certain matches were playedincluding another series against EHOME.
Despite at least two separate instances of match-fixing concerns and accusations, no public comment or ruling was shared by Valve. And now it appears more shady activity is going on behind the scenes as all but one member of the Knights squad have seemingly left the teams DPC roster slot or completely rebranded.
According to the official DPC registration page, eGo, Flyby, and AlaCrity- have moved to a roster simply called Solitude. This appears to be a fresh lineup in the backend, with Dqq and rayy joining the team.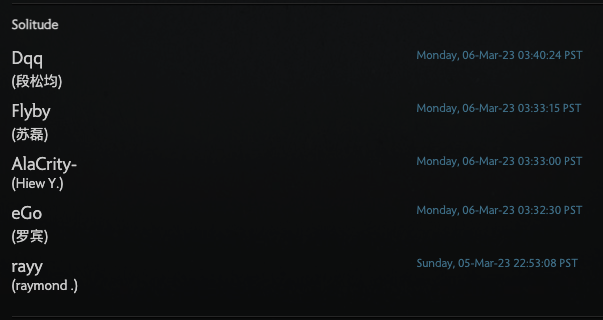 Screengrab via
Valve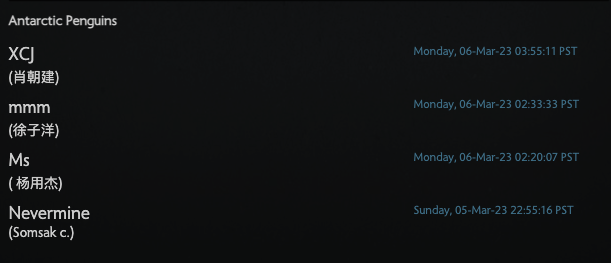 Screengrab via
Valve
Meanwhile, the Knights roster slot in the backend, which will seemingly retain the Division I slot in the DPC Spring Tour, has kicked everyone by XCJ. Now called Antarctic Penguins, Ms from Dawn Gaming, another team accused of shady behavior, is listed as one of the new players along with mmm and Nevermine.
We will have to wait for full clarification on which of those lineups will actually be competing in Division I in the upcoming tour, but this seeming rebrand and pivot to a new lineup likely means we wont see any closure on the allegations brought up against the now defunct-Knights. That is, unless Valve drops down from the top ropes in the coming weeks to confirm the wrongdoings.