After initially announcing that ranked play would be coming to Call of Duty: Modern Warfare 2 with the launch of season two back in January, details for the long-awaited mode have been revealed today.
From a rank system overhaul to the introduction of features such as Skill Rating (SR) Forgiveness and Demotion Protection, as well as the included map pool and game modes, heres a breakdown of everything you need to know about ranked play in MW2.
Ranked play is set to make its return with a lot of the foundational facets seen with the mode in recent years. Using the official rules, restrictions, maps, and modes in place for the 2023 CDL season, players (who are at least level 16) are invited to try their luck in the four-vs-four esports-ready setting. All of the unrestricted itemsweapons, attachments, and morewill be automatically unlocked upon entering the mode.
As has been previously revealed, development for MW2s ranked play mode is being spearheaded by Treyarch, with support from the Call of Duty League.
With learning moments from Black Ops Cold Wars league play and Vanguards ranked play in mind, it appears there will be numerous tweaks debuting in MW2s flagship competitive mode at launch.
There are eight skill divisions in MW2 ranked play, which have placement ranges determined by players individual skill ratings (SR):
Bronze: Zero to 899 SR
Silver: 900 to 2,099 SR
Gold: 2,100 to 3,599 SR
Platinum: 3,600 to 5,399 SR
Diamond: 5,400 to 7,499 SR
Crimson: 7,500 to 9,999 SR
Iridescent: 10,000 SR minimum
Top 250: 10,000+ SR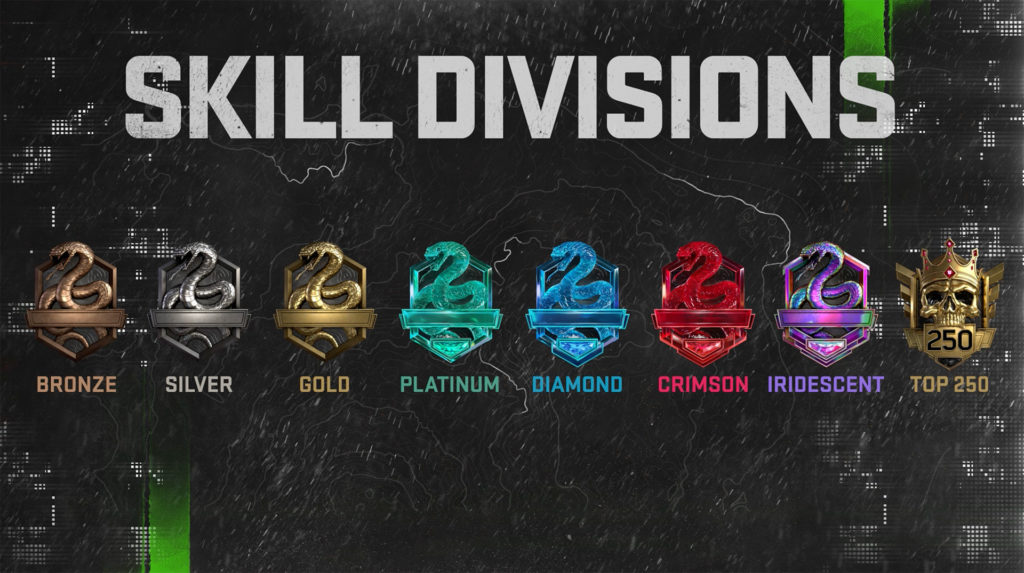 Image via Activision
Players SR adjustments will be based mainly on the results of their matches, with losing guaranteeing drops. Individual performance will also impact the amount of SR you gain or lose each match, but that effect is lessened in higher skill divisions.
Each skill division below Iridescent has three tiers of additional SR subcategories to power through. Returning from Vanguard is the Top 250 skill division, which will now be active from the start of each season in MW2. The prestigious rank will once again have a public leaderboard, which will also display the CDL team affiliation and player profile for pros invested in the public ladder.
Another key change to ranked play in MW2 is that all players will start out in Bronze, effectively removing the need for placement matches.
Yes, even kings and tiny terrors had to start somewhere, the blog reads. Play well enough, and you will move up through the available Skill Divisions in only a few matches.
For those looking to run ranked play matches with friends, players are allowed to squad with up to three others so long as they are within range of each others skill divisions:
Bronze through Platinum players can party up with no restrictions.
Diamond and Crimson players can only form parties with and play against other players within two skill divisions.
Iridescent and Top 250 players can only form parties with and play against other players within one skill division.
At the end of each ranked play season, the highest skill division placement that players reached will be used to determine what rewards they earn, as well as where theyre placed for the next season. Bronze through Crimson players will start one skill division back, while Iridescent and Top 250 players will start at Diamond tier one.
Reaching Bronze and Silver nets players an emblem, while hitting Gold and above grants two new special operator skins, an animated emblem, and a weapon charm. Iridescent and Top 250 members will also get an animated calling card, while the No. 1 ranked play player is said to be awarded an exclusive animated calling card and emblem.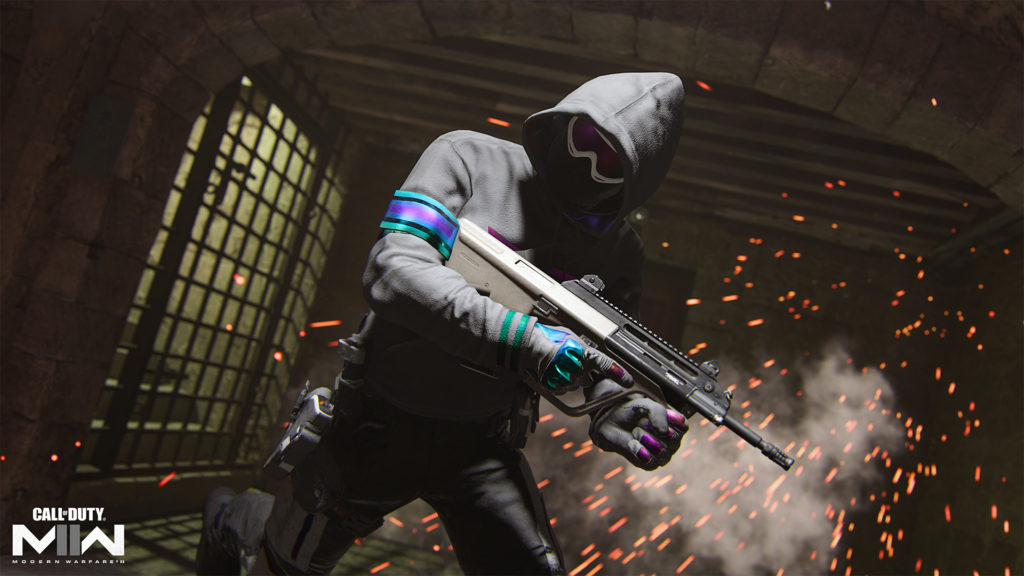 Image via Activision
For the purposes of additional seasonal rewards, players in MW2 ranked play will also progress from rank one to 50. Ranks do not reset between seasons. To level up the ranks, players will need to rack up a hefty amount of stars, which are given at a one-to-one ratio for every ranked win.
Every five ranks, players will receive cosmetic rewards and a new symbol that appears in the color of their skill division, while other seasonal rewards can be had by hitting seasonal win challenge milestones. This ultimately means that players who put in the time and rack up wins in ranked play will be rewarded no matter what their highest skill division ends up being.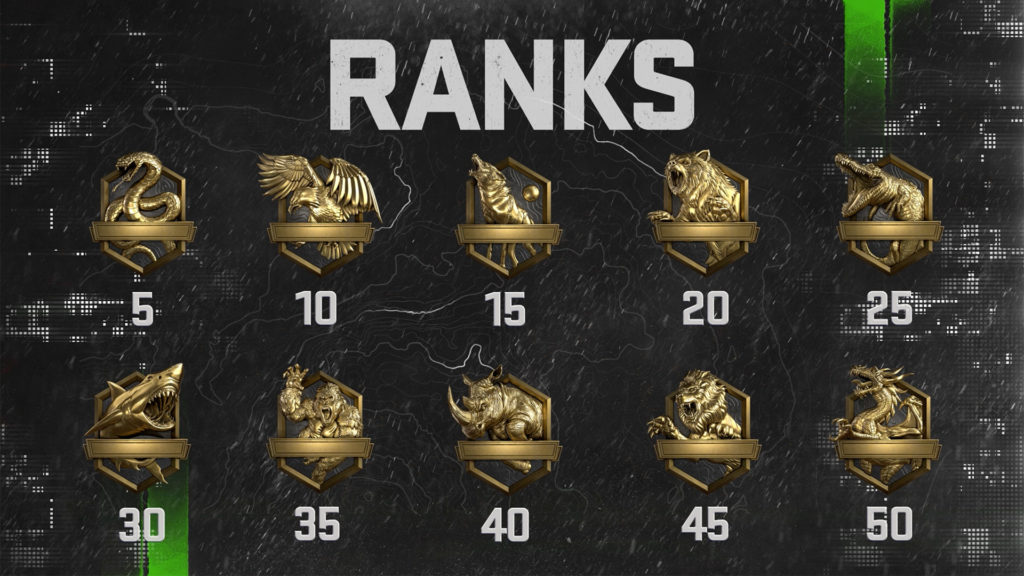 Image via Activision
The MW2 season two rank rewards are:
Rank five: Ranked Competitor Operator Skin Pack, one Home version and one Away version awarded for both the Male and Female CDL Operators.
Rank 15: Pro Issue Sidearm Blueprint, which has similar attachments to what is used at the highest level of competitive play.
Rank 30: New Gun Screen that tracks Ranked Play wins.
Rank 40: Pro Issue Combat Knife Blueprint, which is another popular competitive Secondary weapon.
Rank 50: Ranked Veteran Operator Skins (Home and Away) awarded to Male and Female CDL Operators, proof of your commitment to Ranked Play no matter your Skill Division.
It seems there will be two new features in place to address situations in which players leave at the beginning or in the middle of ranked matches.
First off, ranked play matches will simply return all players to the lobby and will not count if the teams are uneven before a match begins. Secondly, if a player disconnects or quits in the middle of a match, SR Forgiveness will kick in so that all team members outside of that players party will not lose any SR. If a team manages to overcome a number's disadvantage to win a match, however, they will still earn SR.
Another major feature of MW2 ranked play appears to be Demotion Protection, which gives players three games after advancing to a new skill divisionas well as the first three matches of every seasonwhere they can't lose any SR. After the Demotion Protection wears off, players who lose two consecutive matches will be demoted out of their skill division.
Lastly, two additional features that are set to debut in MW2 ranked play at launch are Hot Streak Flames, which are given to players on active winning streaks (three games or higher within a 72-hour period), and the addition of skill division and rank icons in social profiles across MW2 and Warzone 2.
Ranked play arrives with the launch of MW2 season two on Feb. 15.