The 16-year-old Apex Legends professional player Jaeden "Caprah" Valle has given up on his career after abusive messages he sent emerged on the web. The up-and-coming talent said he'll no longer attend the ALGS Playoffs in London or take part in Split Two Pro League after his toxic messages were leaked.
They targeted fellow Apex Legends pro Nicholas "Sikezz" Odom, who currently plays for the esports organization XSET. Caprah made several offensive comments about Sikezz in a Discord conversation on Discord on Dec. 23.
Sikezz was the one who made the messages public, and explained that people have tried to convince Caprah to stop acting toxic "behind closed doors," but he didn't change his behavior. "This isn't about getting him canceled for me, it's about opening his eyes," Sikezz said.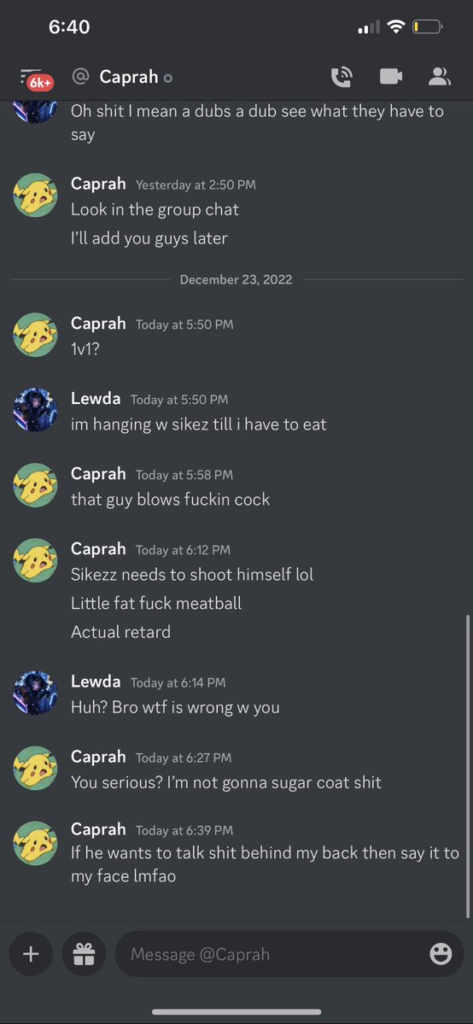 Screengrab via
sSikkez'
Twitter
The messages sparked a discussion on Twitter, and several Apex Legends pros and content creators weighed in. "It literally never hear anything good about this kid outside of his mechanics," Albralelie said. "Such a shame and waste of his skill."
Hours after Sikkez exposed Caprah's toxic behavior, the latter revealed he'll "own up to the mistakes" he made and step away from Apex Legends' professional scene.
"I will no longer be attending the upcoming London event, as we, a team, have made a decision," Caprah said. "I know and will own up to the mistakes I have made in the past year, I'm sorry to everyone who believed in me and I will most likely not be playing Split Two Pro League."
ImperialHal argued he was also immature when he was 16 years old and that Caprah should reconsider the decision to leave Apex Legends for good and work on his mistakesbut the youngster is apparently set on leaving Apex Legends forever.
"There will be no point for me to complete/play this game, they opened my eyes and I won't play competitive Apex ever again," Caprah said. "I don't know if I'm wasted talent, but there is no spot for me in this community anymore."
The ALGS Split One Playoffs will be played from Feb. 2 to 5, which still leaves some days for Caprah and his team, Esports Arena, to reconsider the decision.