Turkish CS:GO pros XANTARES, Ömer "imoRR" Karataş, and Buğra "Calyx" Arkın from Eternal Fire finished among the 10 highest-rated players of ESL Pro League season 17's Group A even though their team didn't make past the group stage and will miss the playoffs.
XANTARES was the best player on the team in terms of firepower, having accrued a 1.17 rating across 12 maps, according to HLTV. ImoRR and Calyx, on the other hand, had a 1.10 rating and a 1.09 rating, respectively. These Eternal Fire players are currently the sixth, ninth, and 10th best players of ESL Pro League season 17 in terms of individual HLTV rating after Group A finished.
Related: ESL Pro League CS:GO season 17: Scores, brackets and results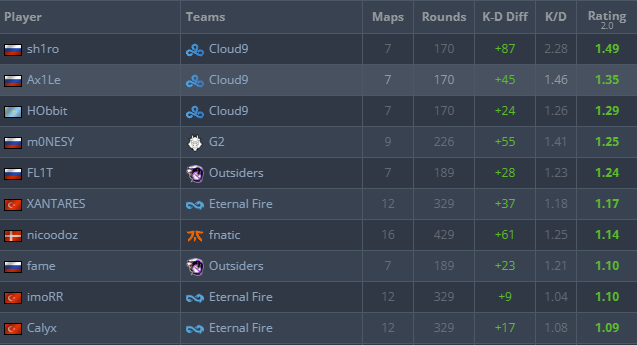 Screengrab via
HLTV
Yasin "xfl0ud" Koç, another one of Eternal Fire's riflers, also had a good individual showing throughout Group A's matches. The 20-year-old finished Eternal Fire's campaign at ESL Pro League season 17 with a 1.07 rating, according to HLTV. The only player from the Turkish team who was far distant in terms of firepower was the in-game leader Engin "MAJ3R" Küpeli. He struggled to have an impact in most matches and produced a 0.87 rating in 12 maps and is currently the sixth-lowest-rated player of the tournament.
Eternal Fire finished top-20 in ESL Pro League season 17 after their results in Group A. They defeated Evil Geniuses and MIBR 2-0 but had losses against G2 and Fnatic (twice). Eternal Fire had one last chance to qualify for the playoffs, but Fnatic reverse swept them and ran away with the playoff spot.
Even though Eternal Fire were sent home from ESL Pro League season 17, they're on the rise as of late. The Turkish team won CCT Central Europe Malta Finals One on Feb. 19 after taking down Bad News Eagles in the grand finals of the $100,000 tournament.